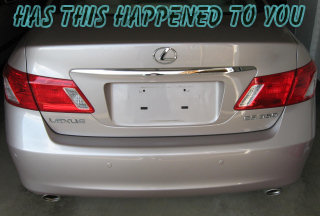 1) Immediately report the license plate theft to the local police department. I called 911 and they put me in touch with the right department. CAUTION: Don't drive your car until you report the theft and an officer arrives to write the official report. It is illegal to drive without a license plate on your car.
2) Obtain a police report from the visiting officer. The officer that arrived on site gave me his business card and listed the Police report number on the front, see picture below. He wrote a brief description on the back about the theft and advised me to show this card when stopped while driving without a license. He said to tell the officer that stops us to call their office number listed on this card if they had any questions. The officer dropped off an official police report the next day at the front desk at my hotel.
3) Report the stolen plate to your DMV office. You may also be able to do what I did. Since I was out of state I contacted Lexus of North Hills, my car dealer in Pittsburgh, and they had all of the information needed to report the plate stolen and to issue me a new license plate. They sent the new license plate overnight to my hotel in Myrtle Beach. Suggestion: Put your dealer's phone number in your cell phone contact list just in case. Find your dealer online. (Read the letter of thanks that I sent my Lexus dealer for their professional and timely assistance.)
A Sign of the Times – Have You Tried to Buy a New Car Lately?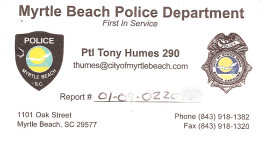 4) Obtain a temporary tag or a new plate from the state as soon as possible. (*See following comments)
5) If this happens at a hotel or resort negotiate a price reduction for the inconvenience you experienced while at their establishment. Management agreed to take $55 off my bill for the extra cost associated with procuring a new plate and having it sent overnight and the overall inconvenience this caused.
6) Secure your new plate with the options mentioned on the Prevention page and pictured in the Photo Gallery.
* I was advised by the officer that I would probably have to drive back home without a license plate and to expect stops by different police departments along the way. I was stopped several times before my plate arrived and fortunately I had Officer Humes card and the full police report that he was kind enough to drop off at our hotel room.
Another word of caution. After the plate was stolen and until I received a replacement plate I was very apprehensive about driving the car and leaving it in a mall parking or restaurant lot for fear of having the car towed away. I thought that the mall security force may assume the car is stolen and just have it towed. Until I received my replacement plate we didn't go vary far for very long and wherever I did go I backed into parking spots where the plate wasn't in view.
Some states and Canada require a front and back plate. In Pennsylvania we only have a license plate on the back of our cars. Several Canadians had their back plate stolen but ware able to put their front plate on the back for the trip home. They still needed the police report because they anticipated having trouble crossing the border back into Canada on the return trip.
DMV OFFICES
State Departments of Motor Vehicles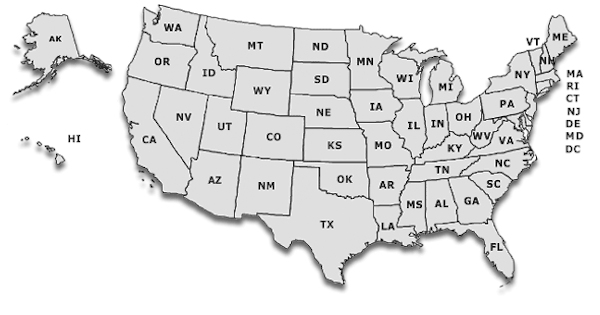 CLICK ON THE STATE NAME TO GO DIRECT TO THEIR DMV OFFICE