Introduction
My wife cringed when I started the garage remodeling project several years ago. I always wanted a pristine garage to work in and simply enjoy. I'm an organization freak, there is a place for everything and everything must be in its place.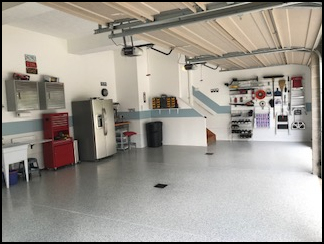 I painted the three-car garage walls light gray from the floor to the one-foot-wide blue racing stripe; the area above is a bright white. The wall cabinets and a work bench were added several years before. The blue racing stripe is the same color as our first car, a light blue 4 door 1963 Chevy Impala that has a story of and in itself. Here is a short excerpt from my memoir, The Early Years, A Road Less Traveled, that mentions how we obtained our first set of wheels.
"I was in the military, married and earning $145 a month in 1969. On January 2, 1970, we purchased our first car, my squad leader's 1963 Chevy Impala. When I applied for a $441 loan from the local federal credit union, they denied my request. The monthly payment was only $20.62.
I used the little that I saved for the fifty-nine dollar down payment and to pay for the title transfer, license plate, and insurance. When I told Bill, my squad leader, he offered to cosign for the loan without hesitation. We had only known each other for the past six months, but he willingly signed. He was a great friend. We had our first car; to us it felt like we owned a new Cadillac or Mercedes."
My first car was a 1957 Buick Special that I purchased in 1966 while in high school for $100! I would like to pick up either of these two cars restored someday and display them in my newly remodeled garage.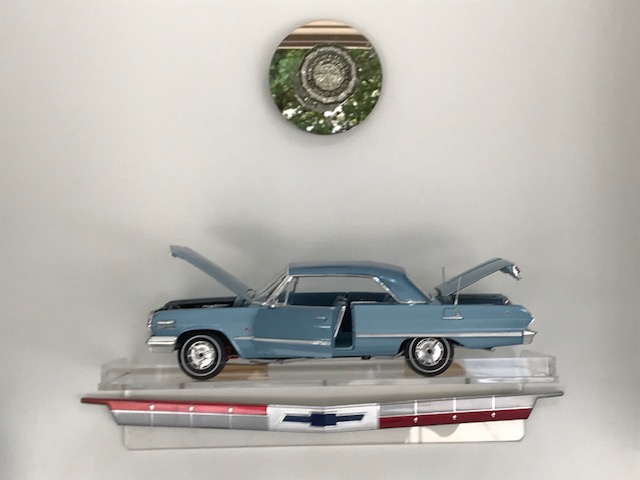 I upgraded the lighting to daylight LEDs; when turned on it's as bright as a sunny midsummer day. I keep everything off the floor either in cabinets, on shelves or wall organizers. I have mostly reproductions of auto memorabilia on the walls while I search for originals on forays to local flea markets and garage sales during the spring and summer months.
Floor Coating
The floor and baseboards were the last tasks. A local contracted applied a flaked multi colored polyaspartic floor coating. The flooring application was completed in 7 hours and I was able to walk on it 2 hours after they left. Regular epoxy applications take up to three days to apply and cure and the fumes are more pervasive.
Any garage floor application gases out fumes; it took 3 months of airing out with fans going 24/7 to moderate the odor. If you have respiratory problems, proceed with caution before applying any floor coating. Thoroughly seal your garage to keep the fumes from entering your home. I spent a week sealing every crack and crevice and installed the baseboards myself after the floor cured.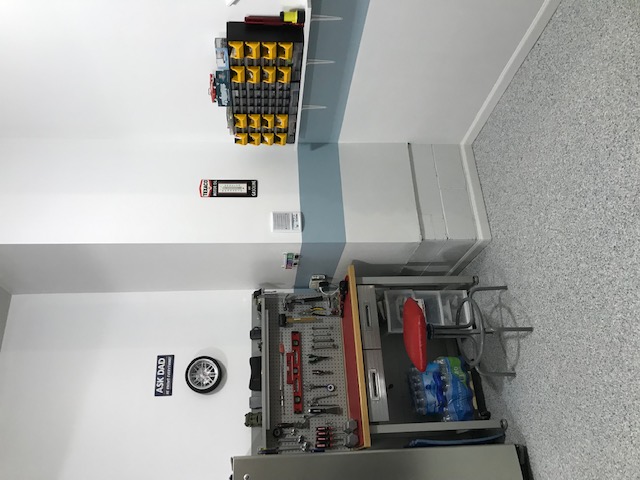 In hindsight, I believe a clear coat with a light gray tint would have been less expensive and had less fumes than the polyaspartic floor coating. It took almost a year for the fumes to totally subside. Plus, I believe the smoother surface would be easier to clean.
Several contractors quoted over $700 to install just 80 linear feet of baseboard! The materials only cost $120 at Lowes. Also, floor coatings are slippery when wet, even with a slip retardant applied (fine sand to the final coat).
Personal Touches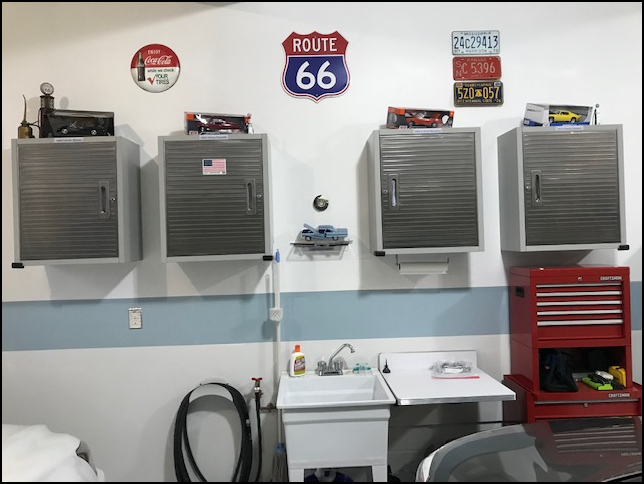 I used my wife's aunt's old Masonite top kitchen cabinet from the 1950s in the garage next to the sink. The base was rusting so I salvaged the top and placed it on a swing up bracket that I can unlatch and drop down flush with the wall when I'm working on projects. Growing up in the 1950s and 60s, I always wanted a classic car from the period and placed cast metal models of my favorites, a 1964 Corvair Monza Spider, 1967 Chevelle, 1964 Ford Mustang, and a 1970 Camaro.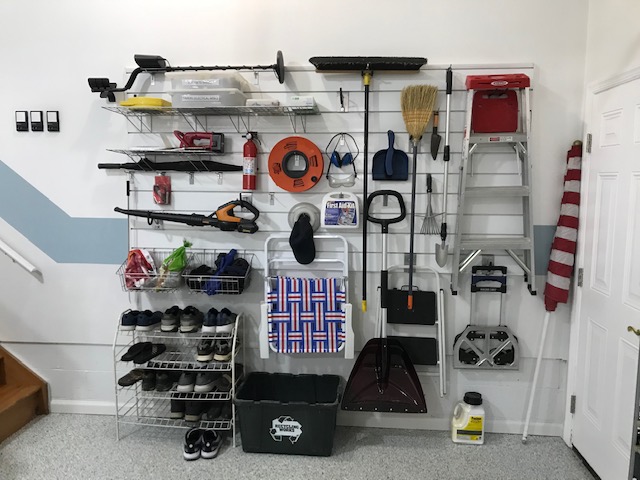 For years I collected miscellaneous nuts, bolts and hardware and organized them into wall and shelf mounted cabinets. Bulk electrical, plumbing, and hardware storage containers were labeled and placed strategically around the garage for easy access.
Other tasks included replacing the wall outlets and switch plates to a garage theme and adding a large wall storage unit on the far right wall. Everything in its place and easy to find when needed.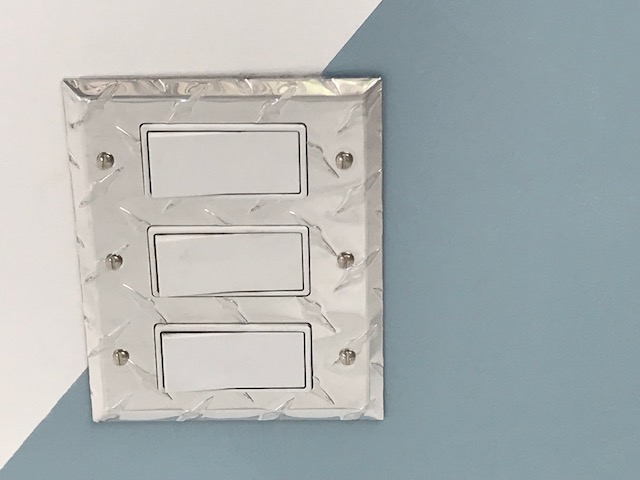 Summary
The project took its toll on my back, for several months I could barely straighten up when standing. In hindsight, I should have contracted some of the work out, I'm not a spring chicken anymore. However, I still enjoy working in and around the house. In my youth I worked sunup to sunset tackling every remodeling job possible plus car repairs and maintenance, not anymore!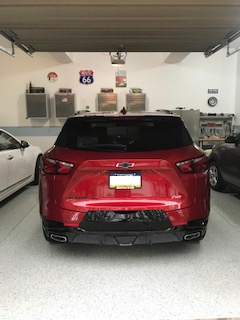 Home Sweet Home